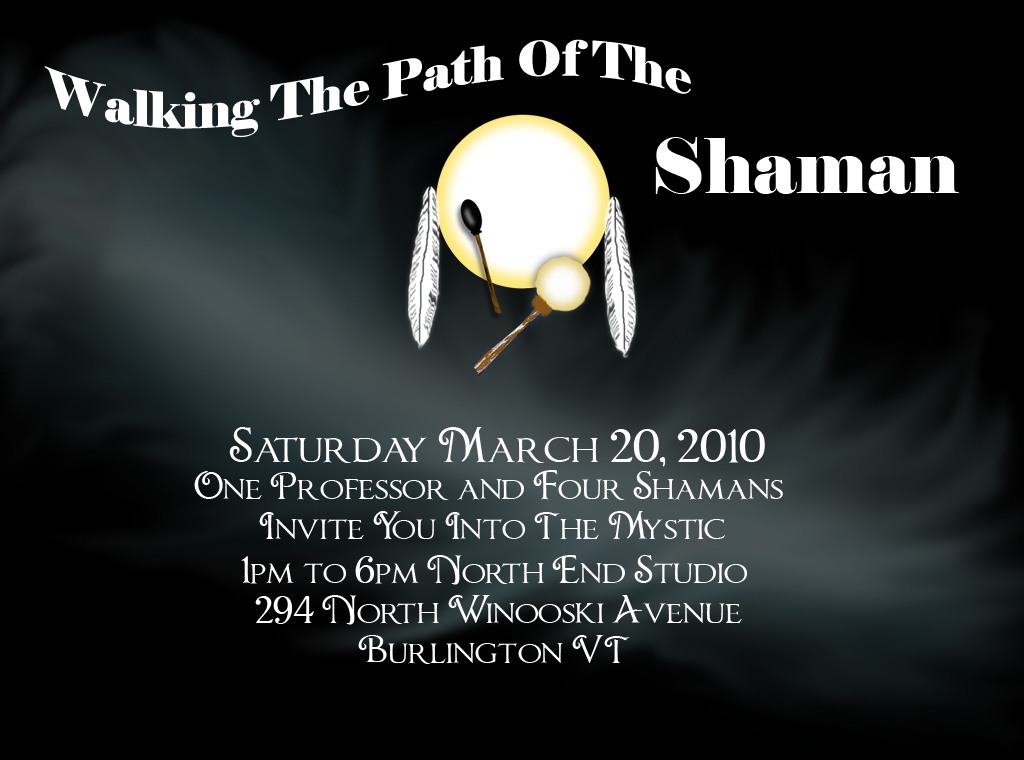 We would like to thank the professor and the shamans for presenting a great event, so much gratitude goes out to them. Thank you to all who attended, we hope this event has helped open the doors to healing.
Shamanism has been a part of societies for thousands of years, transcending written history. The practice is now seeing a resurgence of interest as people long for something more, something to balance the materialism that grips our everyday lives, something that touches the magic that is our soul. You are invited to learn more of the history and to listen to shamans speak of their calling.
Four Vermont shamans, Katherine Veilleux, Wendy Halley, Peter Clark and, Sarah Finlay, share their personal journeys, practices and thoughts on shamanic healing. Dr Wehmeyer from Champlain College will also talk about the historical role of shamanism. This event is presented to the public as a way for those seeking more information on shamanism, the opportunity to meet the shamans and to seek a greater understanding of shamanism. A questions and answers panel is planned as well as a drumming session. Personal sessions may available with the shamans depending on their schedules.
Become a part of this great event to benefit the Vermont Performing Arts League and the North End Studio, promoting and celebrating cultural diversity through performance art since 1978.
Presented by RainWater Center and sponsored in part by Spirit Dancer Books and Gifts, Burlington VT.
Saturday, March 20, 2010 from 1pm to 6pm. Donation is $7.00 for adults, $5.00 to college students with ID, Children under 12 are free admission.
Click on the link above
The Shaman's Prayer
I am already given to the power that rules my fate.
I cling to nothing, so I have nothing to defend.
I have no thoughts, so I will see.
I fear nothing, so I will remember myself.
Detached and at ease, I will dart past the Eagle.
RainWater Center | &nbspVermont Performing Arts League